Contact Us
For General Information or to Schedule a Speaker
General Contact Information
Biblical Botanical Gardens Society- USA
2442 Hi Roc Circle, NE
Conyers, Georgia 30012
USA
352-301-1445
Dr Ed Bez
518-598-2058
Media/Communication
William Moran III
Explore our fascinating and informative website
Join our social connection network. Joining is free and easy and we do not sell your data.
Check us out Here
We encourage you to connect with our social network. Joining is free and easy and we do not sell your data.
Check us out Here
Follow Us
Facebook: ed bez
Twitter: dredbez
Skype: dr.ed.bez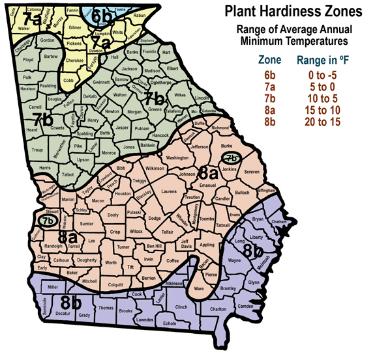 BBGS- Middle Atlantic Regional Offices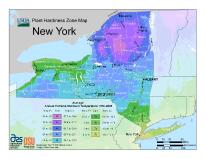 BBGS- New England Regional Offices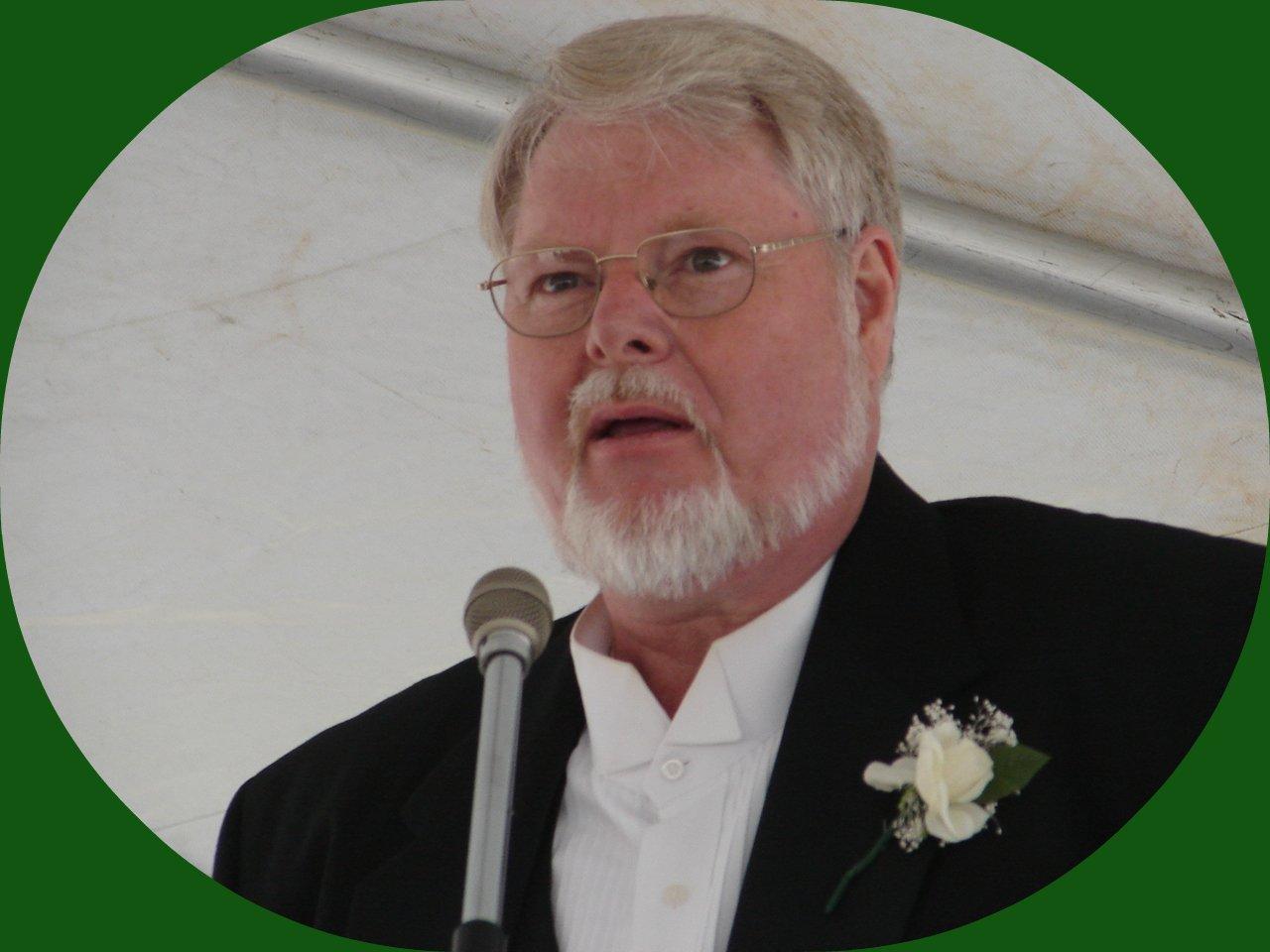 Dr. Ed Bez, Director, Biblical Botanical Gardens Society - USA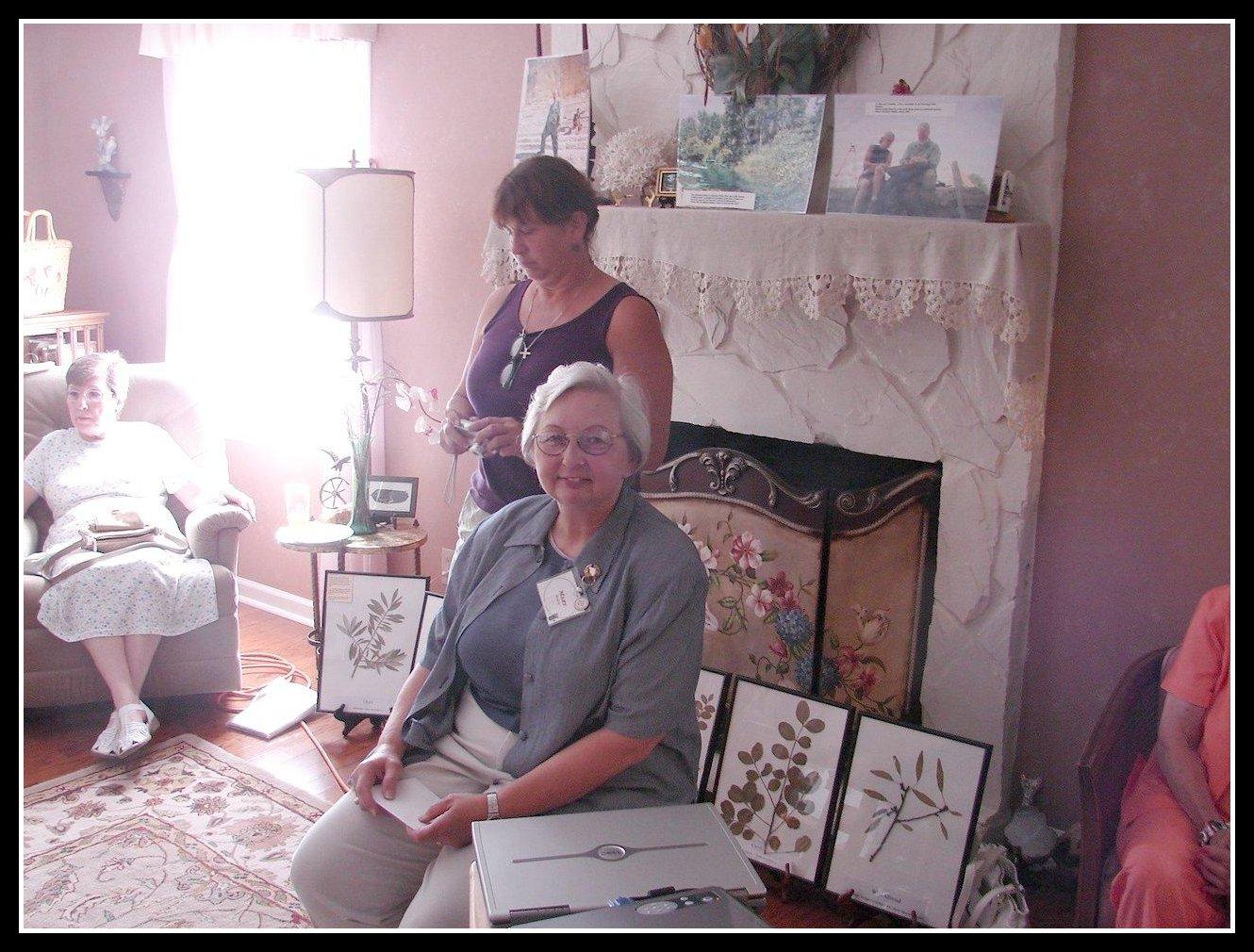 Clarkesville Garden Club 2008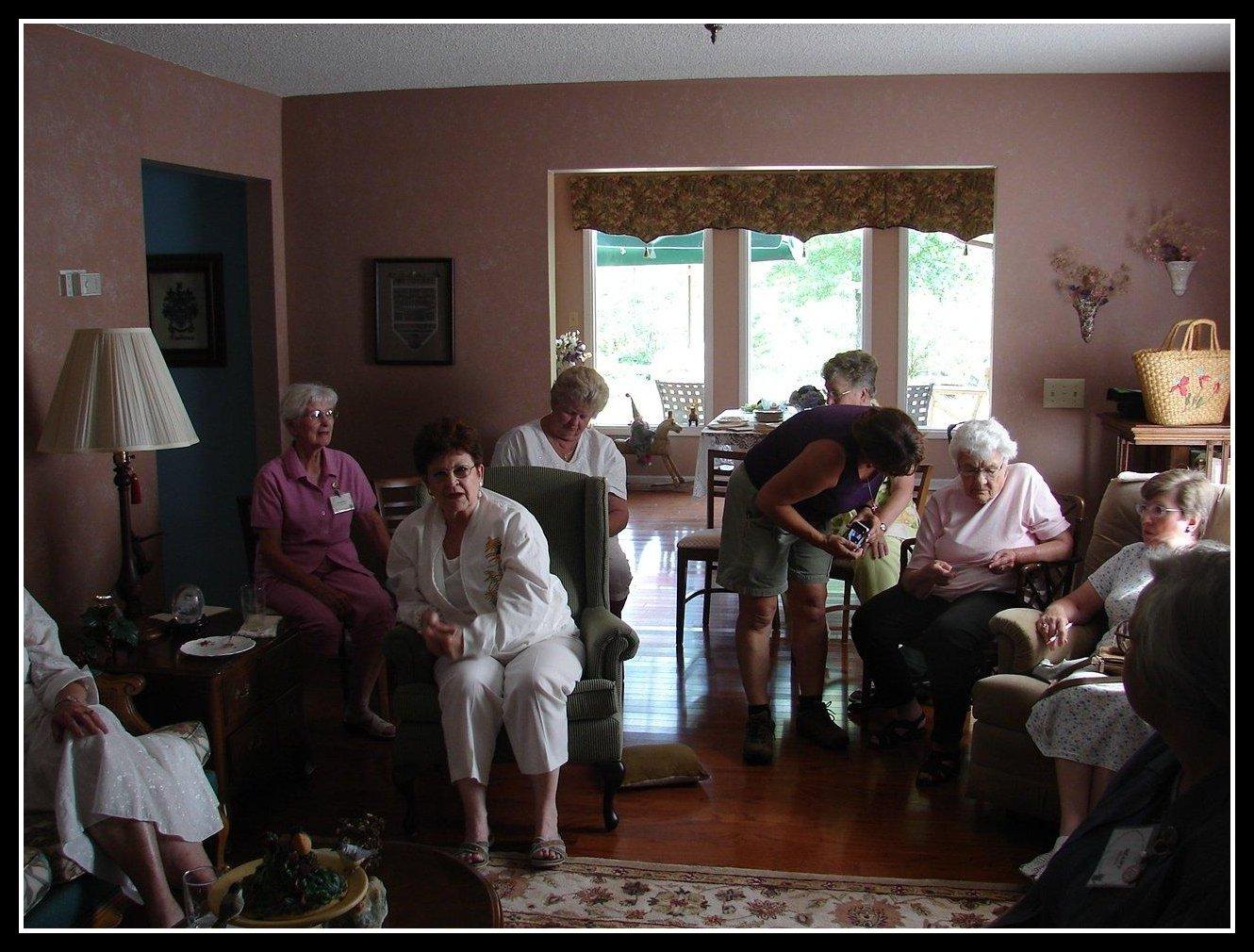 Clarkesville Garden Club 2008
Ladies enjoying the presentation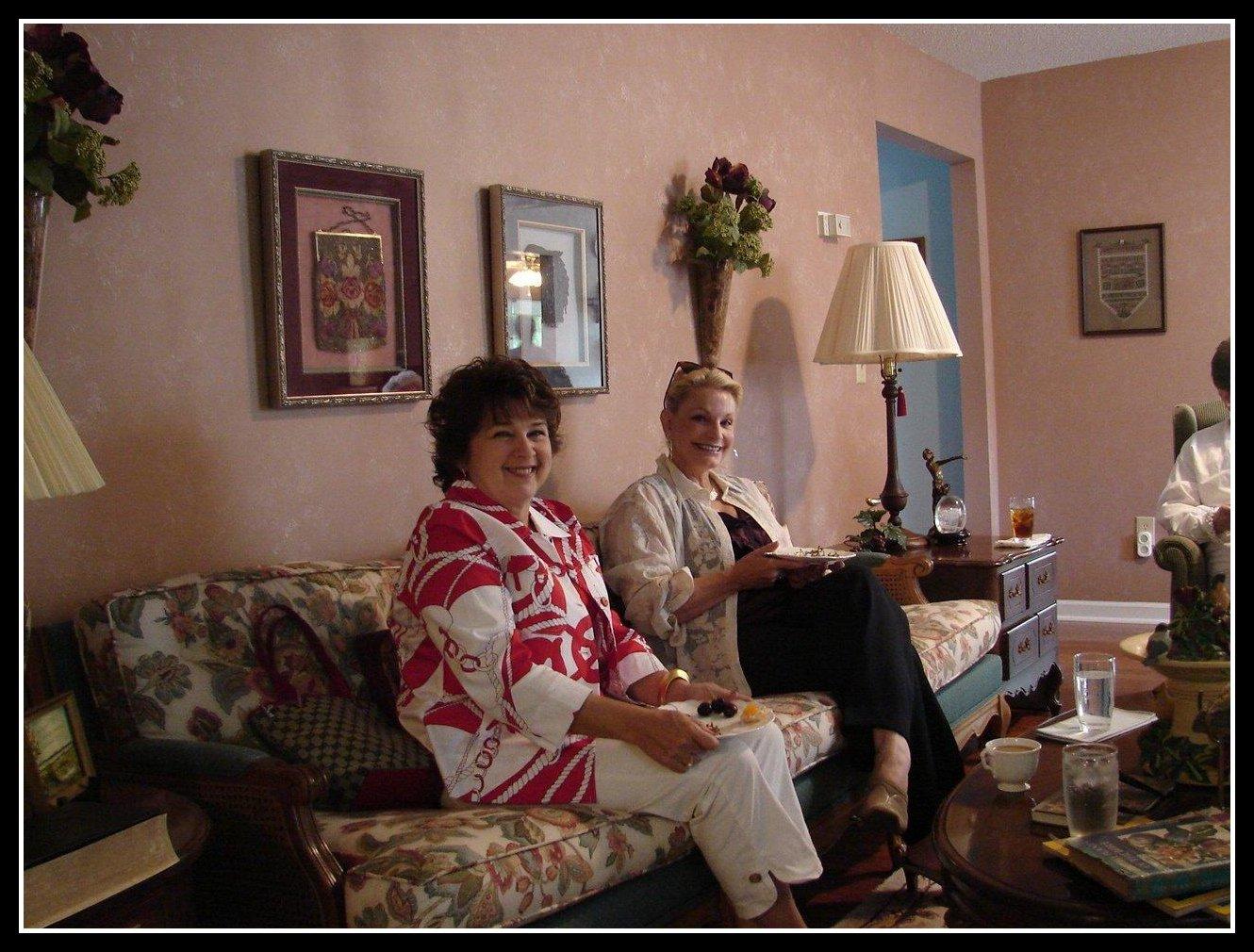 In the foreground is Rev. Virginia Ruhlman, my local host and ministry colleague of over 30 years, joined by her friend and neighbor, Carol.
Speakers Bureau
The following BBGS members and directors are available:

Our director Dr. Ed Bez is available to speak at your meeting; large or small.
He is an articulate, interesting, and knowledgeable presenter. You will enjoy every minute. He makes everyone feel at ease and everyone leaves feeling as if they have learned something of value and interest.
Dr. Bez has a vast grasp of the contextual background to the Hebrew Bible and Christian Scriptures; flora and fauna of the Lands of the Bible, archaeology, climate and geology of the Holy Land are among his expertise.
He is available for schools, service clubs, conventions, churches, seminars, Sunday school classes, synagogues, chapels, gardening groups, senior citizens, life enrichment programs, retirement communities, youth groups and camps
Schedule him for your next event and you'll be very happy you did.
Fill out the automated contact form or write to the address provided in the left column.
Read Dr. Bez's Blog at http://seedspadensword.com
Catalogue of Available Presentations
Healing Plants of the Bible: Then and Now
Ruin's Curse, Redemption's Cure: Thorns and Thistles of the Bible
Dining with the Ancients: What Would Jesus Eat
Herbs and Spices of the Bible
What is a Bible Garden and how to create one
Fruits, Flakes and Nuts of the Bible
The Pollinators: Birds, Bees, Butterflies, Bats, Beetles, and Bugs
Antiqu-teas: What the ancients drank
King Solomon: Biblical Gardener and Botanist
Song of Solomon: a Botanical Text
Amber Waves of Grain: Cereals of the Bible
Manners and Customs in Biblical Times
Those Wicked Plants: poisonous plants found in the Bible
The Archaeology of bees and other pollinators
House of Pharaoh - Hive of Bees: ancient Egyptians and beekeeping
Beekeeping in the Golden Age of Greece and Rome

Garden Clubs
Among the more popular groups that Dr Bez gives presentations too are garden clubs throughout the United States and internationally.
His knowledge of the flora of the lands of the Bible combined with his humorous and whitty style make him a favor among the "ladies of the lilies", as he often called them.
He topics are chosen carefully for each club. He always leaves the members and guests more knowledgeable and appreciative of the role of flowers, herbs/spices, fruits, grains, scrubs and trees in the Bible.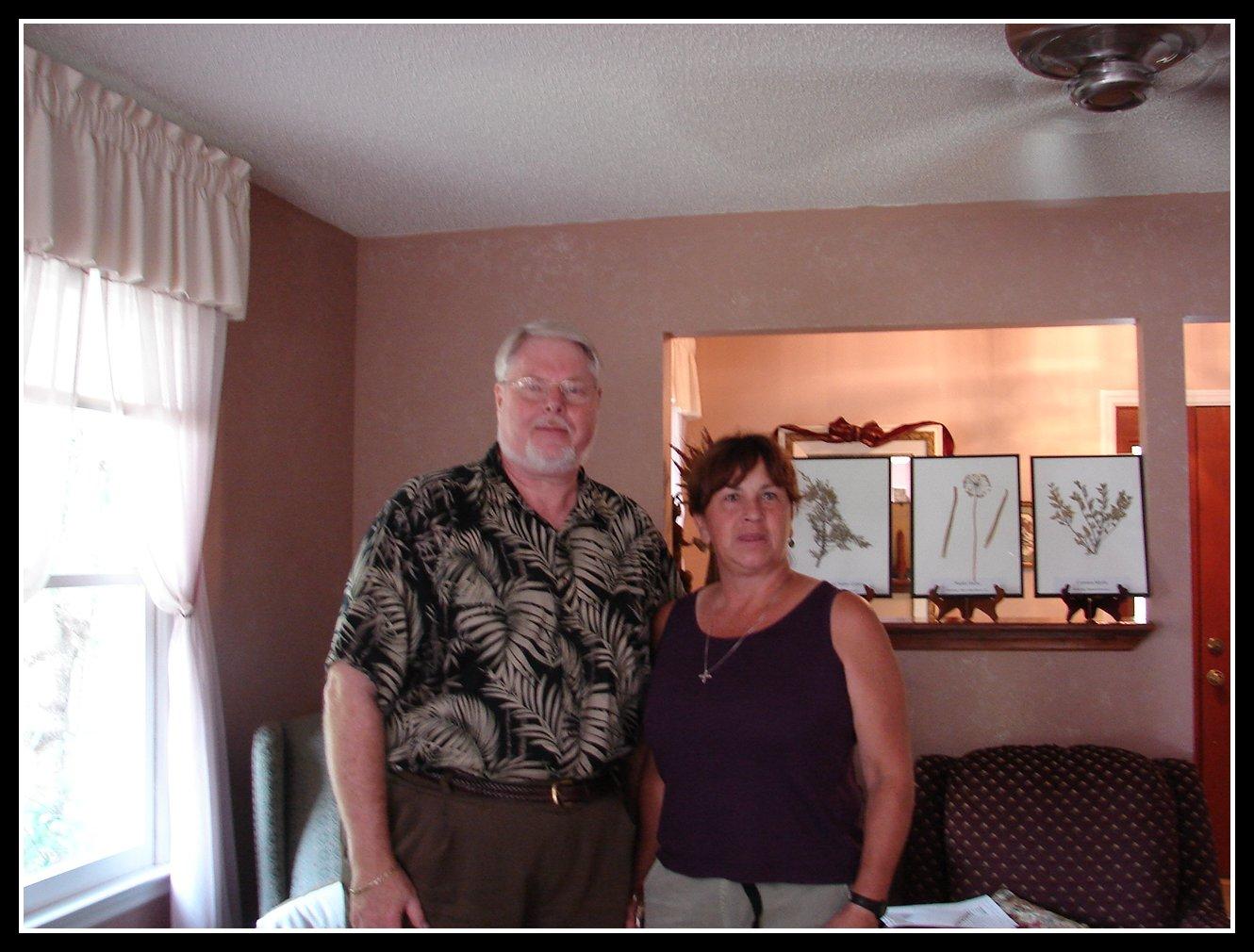 Dr. Bez sharing a lesson on the medicinal uses of biblical plants at the Clarkesville Garden Club, Clarkesville, Georgia,. President of the club, on the right. Notice the herbarium specimen of biblical plants over her shoulder.
Senior Adult Life Enrichment Seminars
Life Enrichment Seminars (LES) are specially designed classes aimed at capturing the attention and nuturing the interest of senior adults. The seminars range in length from a one-hour class to a four-week series.
The gift of relating to seniors and enjoying teaching them is obvious to those who have attended seminars conducted by Dr. Bez. He includes everyone in class discussions and values each enrollee.
Seminars usually have class handouts, notebooks, hands-on projects, and day trips to interesting and educational places; museums, gardens, universities and college, movies, stage plays, and dramas.
Life Enrichment Seminars are affordable and enjoyable. Four week series have mini-graduations with certificates for each enrollee.
Photo below is Southern Plantation's Graduation Day complete with refreshments and certificates. Each senior thoroughly enjoyed the classes. Dr. Bez helped them to write their names in Egyptian Hieroglyphics, that was a hit!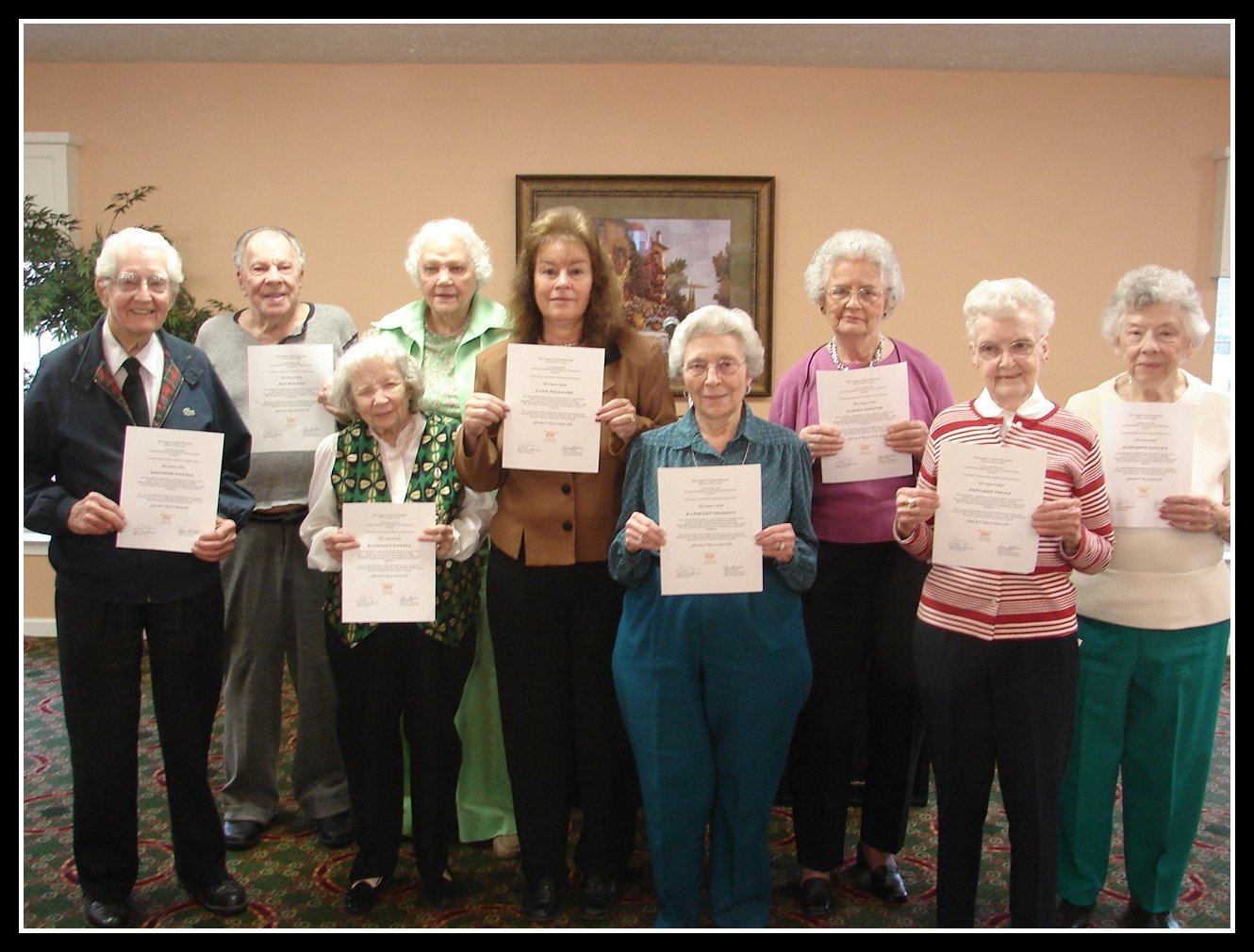 Southern Plantation Life Enrichment University, Loganville, Georgia.
Enrollees on a day trip to the Carlos Museum, Emory University, Atlanta.
Dr. Bez's seminar covered daily life in the ancient civilzations of Egypt and Mesopotamia (modern Iraq).
Children and Youth Educational Programs
Educating and engaging the next generation of gardeners, archaeologists, and sciemtists is a primary goal for BBGS. Many exciting programs have been designed with youth in mind; everything from mums to mummies, bees to Bay Laurel, and worms and wormwood. Youngsters enjoy all of the programs and often ask that we return agaian and again. Contact our office to schedule a visit.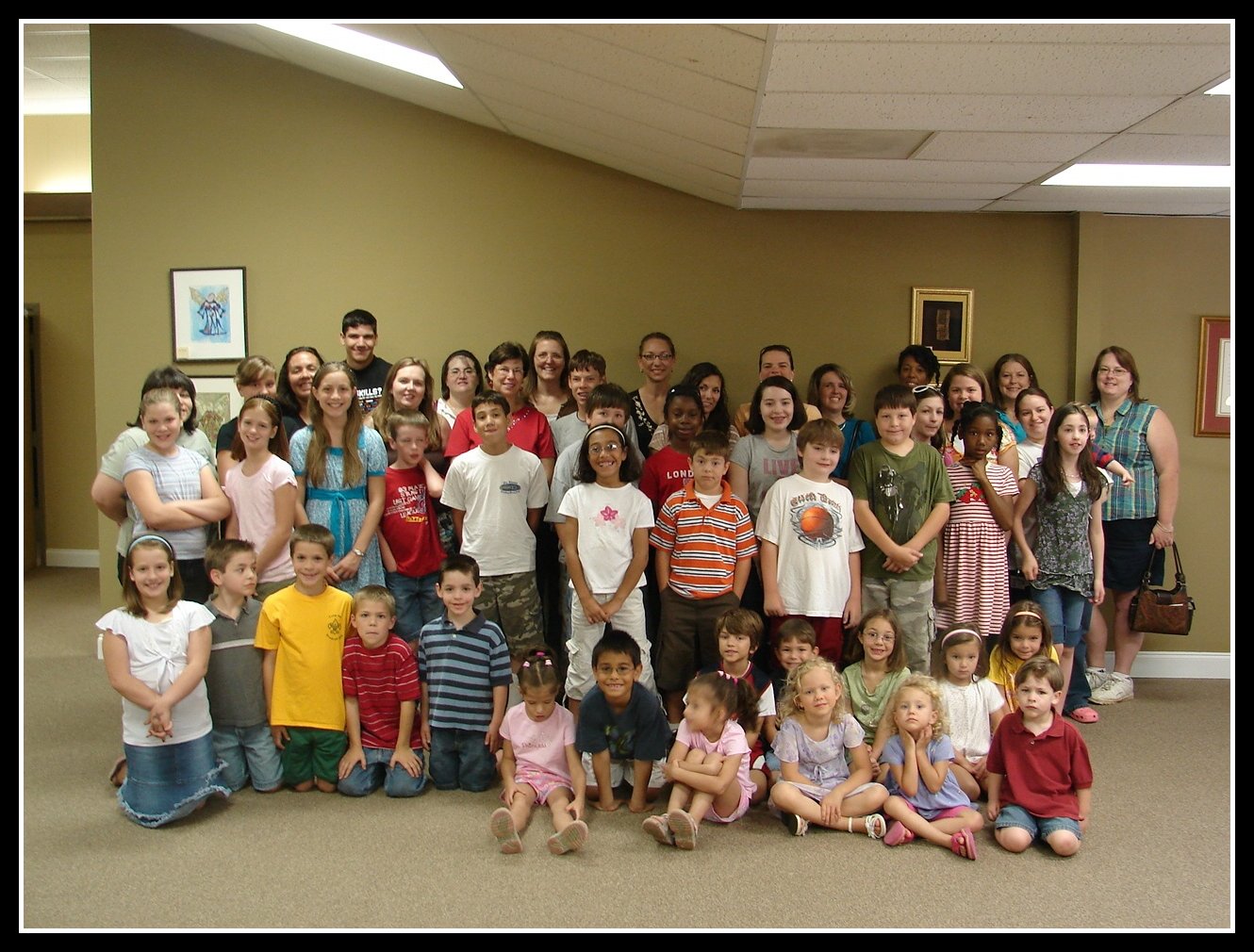 Adult Sunday School Classes
Campus Church of Christ, Norcross, Georgia.
One of several adult Sunday School classes sponsored by
this mega-church enjoys a presentation by Dr. Bez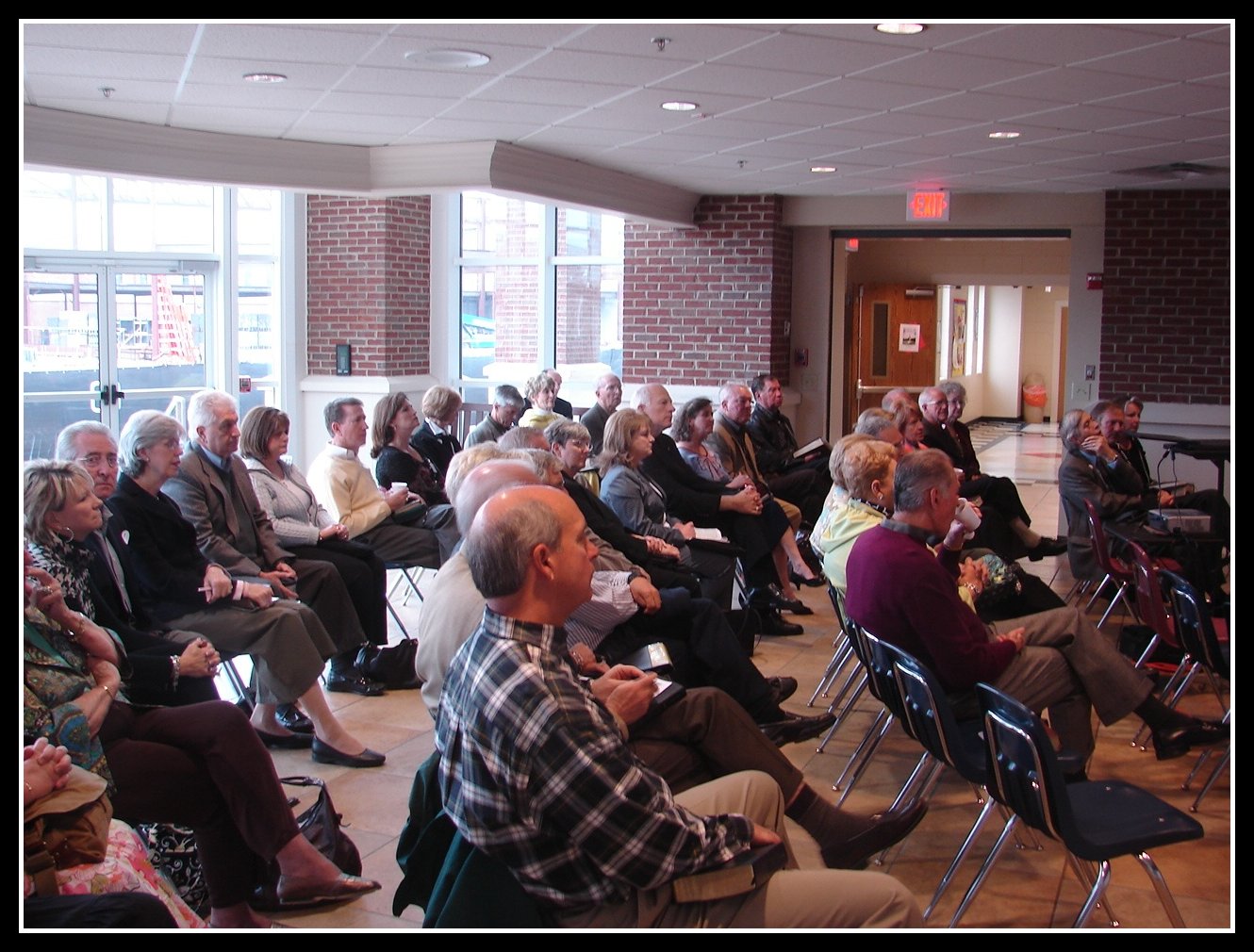 Christian Missionary Alliance Church, Coudersport, Pennsylvania.
The senior adult Sunday school class quarterly dinner and
lecture featuring Dr. Bez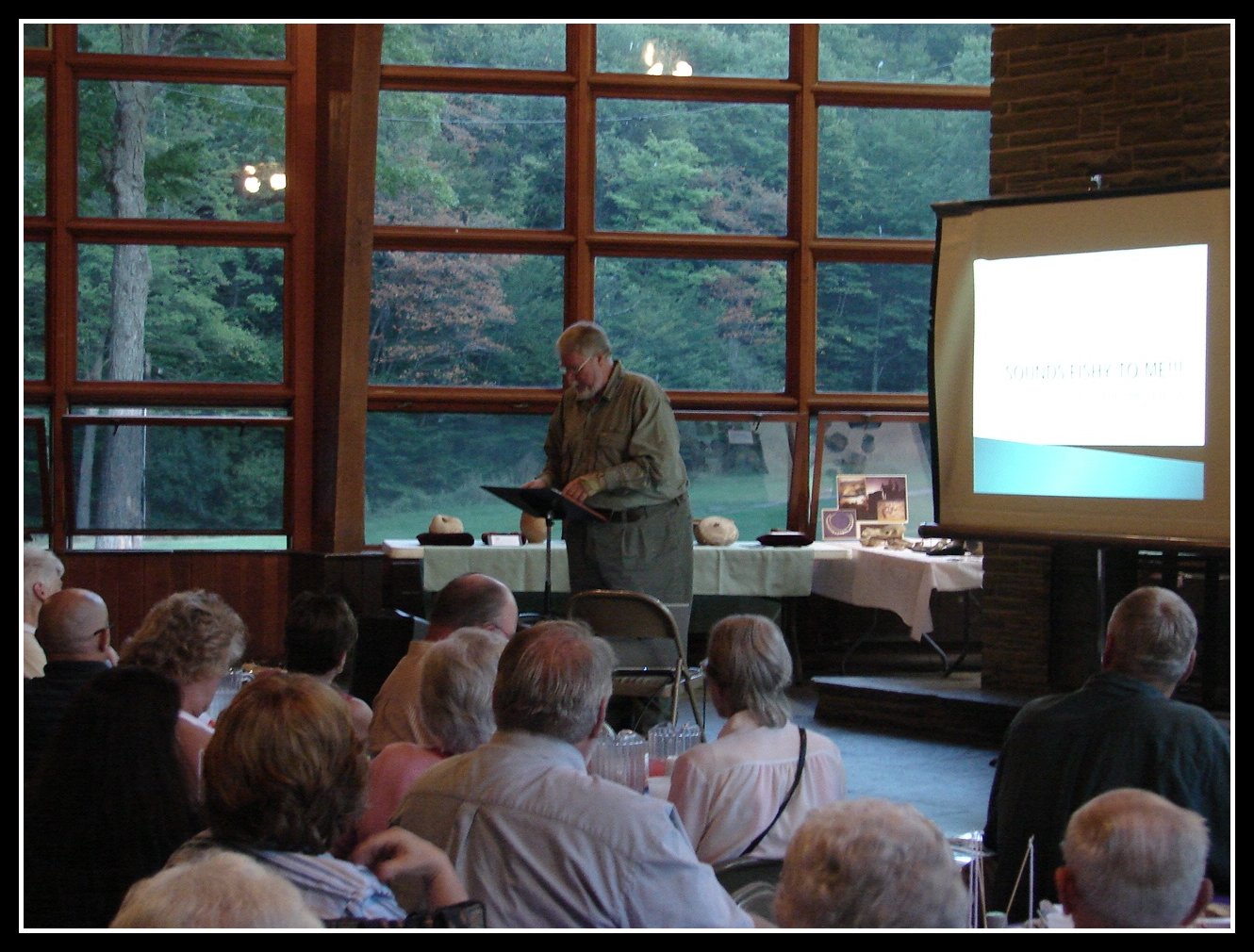 Beekeepers Clubs and Association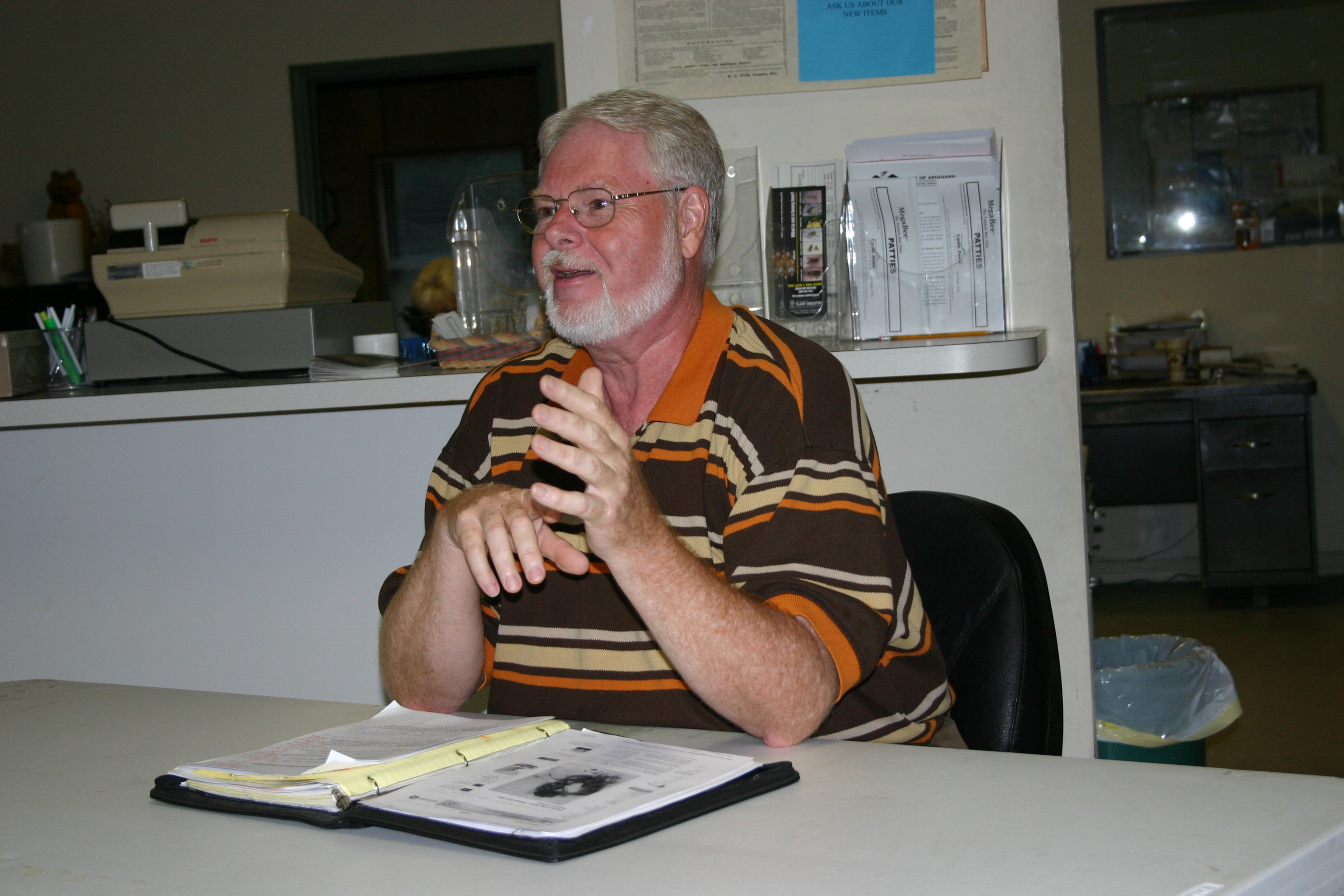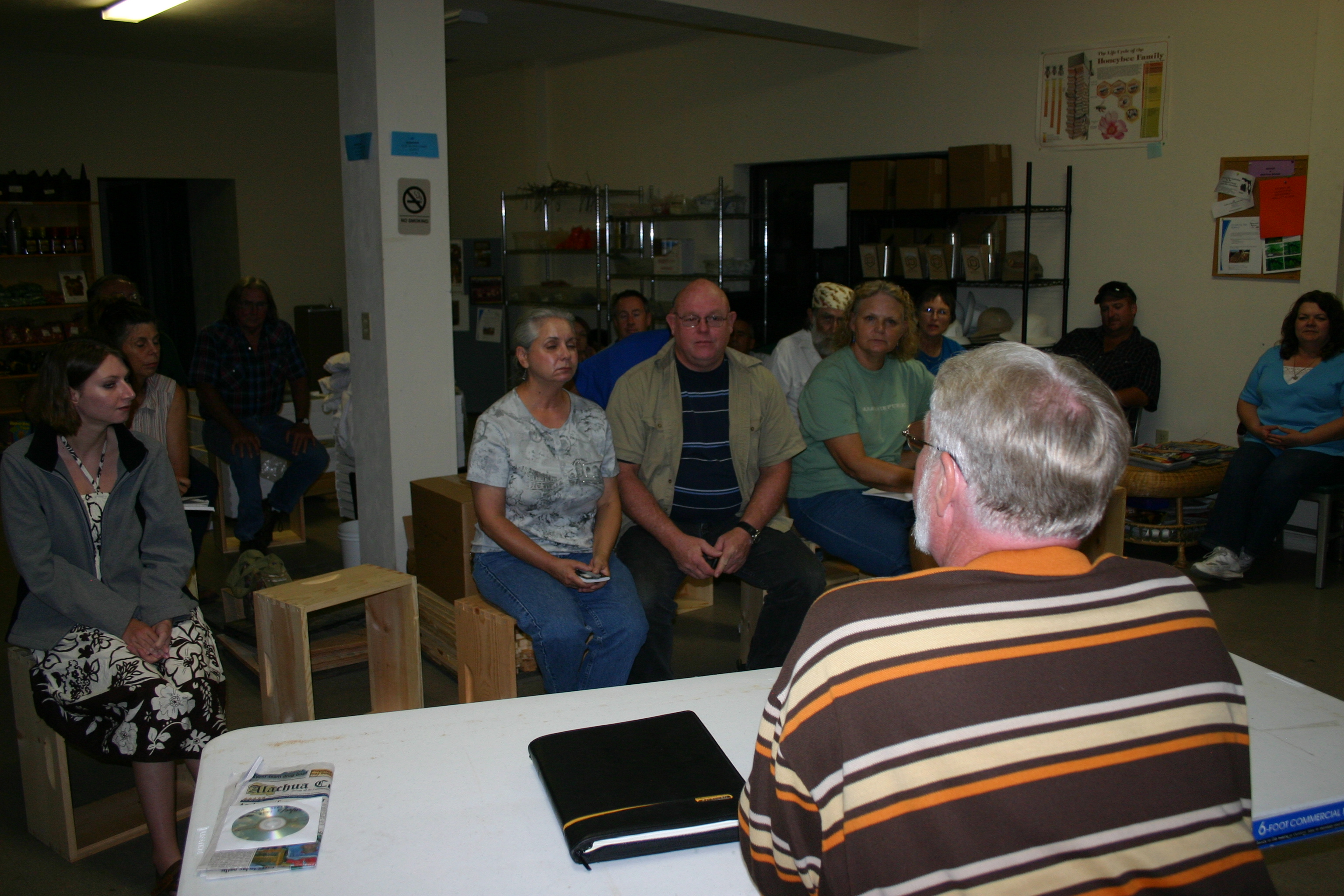 Dr. Bez sharing a program regarding the archaeology of bees and beekeeping at the August 20, 2009 meeting of the Alachua County Beekeepers Club.
Honeybees were and remain inextricably bound to certain species of flowering plants throughout the lands of the Bible.

Members of the Alachua County Beekeepers Club asking questions after Dr Bez's presentation.